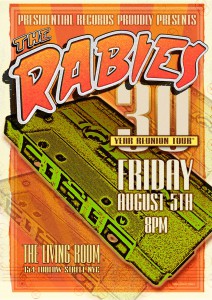 To the left is the reunion poster I created in July of 2011.
But back in 1982, a high school friend asked me if I would do the artwork for his band's single release. There was not much available at a 16 year old's disposal to get the job done in any manner remotely close to what is available today. The best I could do back then was to get out my fineliners, T-Square and triangle, take my time and try not to screw it up too many times.
What you can click below are the original works I did back then. Complete with a healthy dose of copyright infringement. You will also get a view of the original 45 label and the commemorative disc that I designed that honors the original.
« Space | Recording and Rehearsal
Pinamonti | Mobile »