Not really a big fan of putting web banners in my portfolio but here are a few that I think turned out well enough for inclusion.

Web banners are web banners, love them or hate them. I know, pretty much everybody hates them. But its honest work, and there are worse ways to spend one's time making a buck.
I recently finished up a series of banners for thelocal.se to help them launch The Local Brands. An affiliate site dedicated to selling Swedish products. The site itself has not launched yet, (I believe,) but here are several banners I created that I happen to really like for their bold and minimalist, street-poster like aesthetic.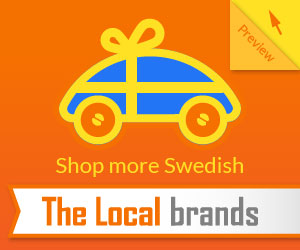 Though I am posting these, the client decided to go with another style that I created using the Swedish Flag/Package icon I developed. It will be used on the official campaign shown in the gallery below.
What's your take? Which banner campaign do you like better?
I would love to hear your thoughts.
« 2014 2KM Loppis Poster