Turning a blog into an actual book is not as easy as it sounds.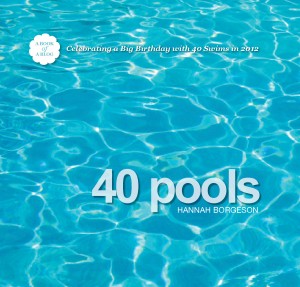 Along with working within the restrictions of a given color palette and style, this project presented several problems that were challenging to overcome sometimes, but the finished product turned out quite nice.
One of the main problems I experienced with this task was the fact that blog posts can run on for quite a length.  In a blog, there really is no worry about type size or layout. If the author wants to keep writing, they can. All the reader must do is continue to scroll. It becomes a lot more difficult to design with a finite amount of space on a printed page. My focus was to keep a continuity from page to page regardless of the amount of content.
You can visit Hannah's 40 Pools Blog or go buy a copy of this book on Blurb.
« Jewelcase and Digipak Mockups
G&G Inc. »